Corporate Tie-ups
Corporate Empanelment
A service- based facility provider like NMC Healthcare looks to expand its prospect by tying up with the impressible Corporate. Efforts with synergy amass two organisations whereby personal health from our end is offered to corporate that touch the need to look after their work force. The responding gain that each party recollects is the larger goal that a corporate tie-up aims at.
In Oman, the group have already empanelled with major Governmental establishments, Embassies, Associations and all business houses in the field of Oil & Gas, Construction, Telecommunication, Banking and Hospitality sector. Our clients cherish special privileges in their employee health care initiatives in the form of Preventive Health Care Packages, Pre-Employment Check-ups and Patient Referrals.
Health awareness Camps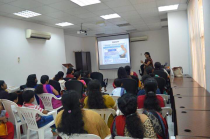 Health awareness camps are an integral part of our Organization. It includes a set team of trained executives and gifted Medic that will be onsite to take over the agreed objectives of the medical camp. The personnel sent over will be well equipped to handle basic difficulties that participants can have. We promise empathetic and pleasant team members on your chosen site so that people at large can greatly benefit. From health check-ups to attending basic difficulties, there is an assured problem-solving attitude that we at NMC healthcare are known for.
Corporate Association
Living a healthier life can not only extend your life, it can also improve the quality. Feeling physically better and having control over your own life can greatly increase your mental health as well. The surmounting stress can have a dramatic effect on your job, morale, self-care, and relationships which squeeze a common worker to the highest office holder in a company. NMC Healthcare is inspired to look for a world that has solutions to every health problem.
It needs no more than a single enquiry with our executives and we can associate with your company to have fruitful engagements so that well-being never goes neglected.
For more details please contact on: